A battle is also a chest
Opening today's Silver 1 league reward, it was a bit "frustrating", only 5 DEC and 3 potions, nothing that significant.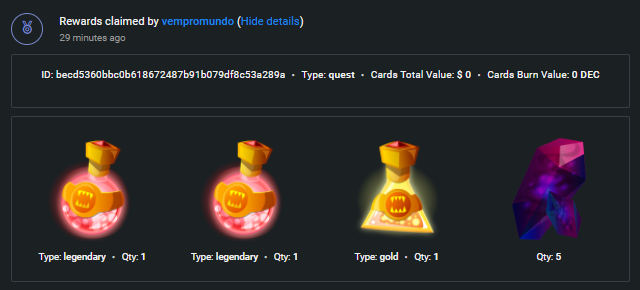 So I started thinking about how I could improve my rewards, if I should draw cards until I hit 100,000 Power and hit Gold 3, because just under 10,000 Power is missing.
I opened the market and went to see the value and power of the cards that were on the available market.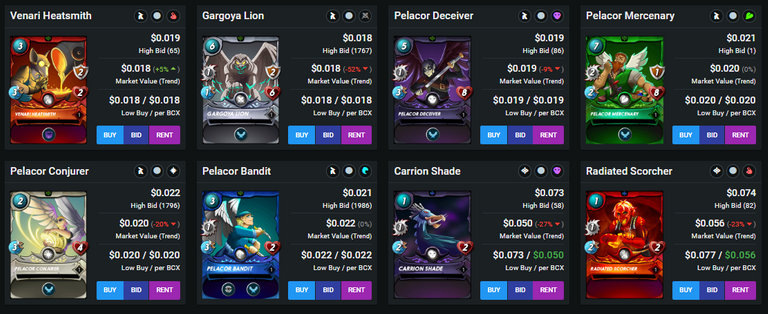 Venari Heatsmith is a card I've never used and I don't think it would be usable so early in the strategies I use, but when looking at the side the Gargoya Lion is a card that in some situations I could use it.
So I opened it to see the DEC price of the card, after all I already had some amount of it and I already had it at level 4. And I noticed that there were several sell orders from @okitokori for 11.298 DEC each.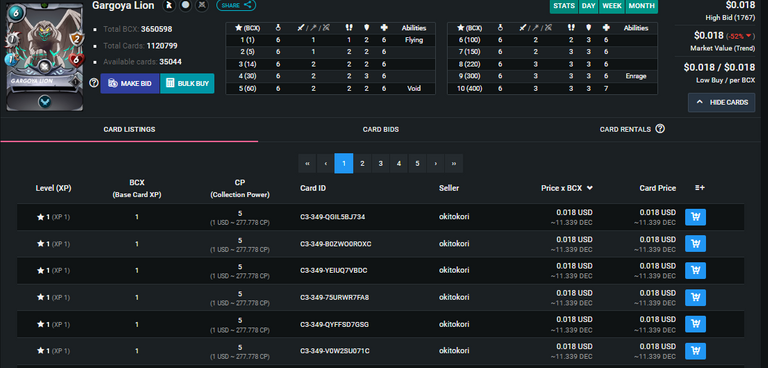 In my last battle I won 3 DEC, and taking into account that I need 5 daily wins to get the chests as a reward, I would have an extra 15 DEC, that is, I could buy a Gargoya Lion a day as a consolation prize for not have gotten no cards when opening my daily chests.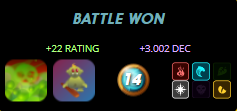 Which brings up the thought of the title of the publication, that a battle is also a chest (containing a letter).
But I decided to give some thought to what I can do with my daily DEC rewards.
I currently rent some cards which brings me 52.727 DEC daily.

Obviously if I keep DEC instead of spending 11 for a card with 5 power I would gain more SPS in the airdrop, but I believe that as I have just over 200,000 Airdrop Points today, 0.01% difference in airdrop is not very significant at the moment Less than 100 days to go.
So I decided that I'm going to take these daily rental rewards and start cleaning (even if in a very small way) the cards that are for sale at the lowest price and that have some usability for me.
I will focus on the cards with 1 BCX, as I will combine them and thus reduce the amount of them available on the market.
I believe that in the long term more and more cards will decrease in quantity as players are combining them for use in stronger leagues with higher levels.
And here's the incentive for everyone that when they open the reward chests nothing comes that makes you happy: use the DEC and buy a card in the market. You will increase your Power daily this way, and you won't be so disappointed that you spent your time winning battles that didn't reward you as satisfyingly.
Posted Using LeoFinance Beta
---
---