1UP bringing AXIE rewards to Game Players/Writers on Hive

The sustainability of the cryptoverse would be assured when diverse blockchain prochain projects see a common ground to collaborate rather then compete against each other. This is why bridge building projects like @LeoFinance's CubFinance and NFTStudios will thrive. We can already see how Binance Smart Chain has grown over the last few months for helping to pool different cryptocurrencies together for common rewards.
Within the Hive blockchin, we've had a community dedicated to serving as a connection hub for anything blockchain gaming and adding another stream of income for gamers who choose to share their experiences. This is the 1UP community.
Barely a week ago after we earned 100 ONEUP each for doing a few social tasks for @nftstudios, here we have another twitter giveaway for play2earn game enthusiasts.
Earlier today, @Flauwy announced the latest twitter campaign calling on play2earn game lovers all over on Twitter to do a few social activity to qualify for ONEUP and AXIE gifts.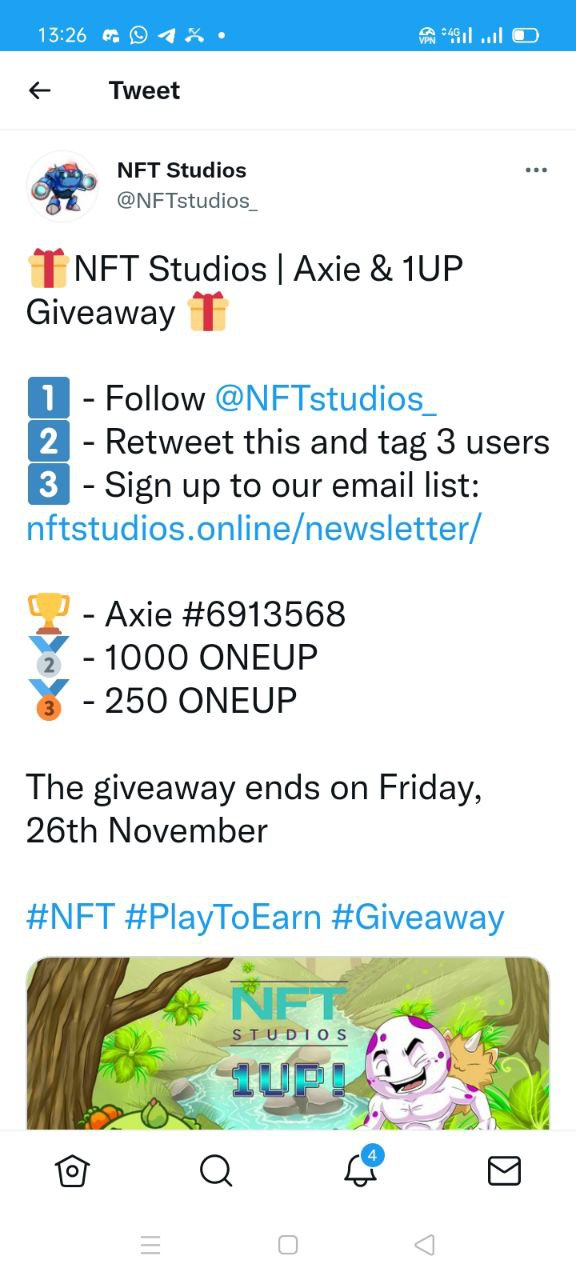 The tasks are as simple as follows:
Those who qualified to receive last week's 100 ONEUP giveaway would just need to do task 2 only. Helping to spread the news about @nftstudios and what it represents would have an overall positive effect on all ONEUP holders in the future.
It would be awesome to also receive the AXIE gift which I believe would soon have a represntation on the hive-engine market like other pegged tokens. I've said that hive-engine has proven to be that all-in-one crypto wallet that uses name ID.
My Entry: Retweet link:
https://twitter.com/Uyobong3/status/1463123069745123335?s=20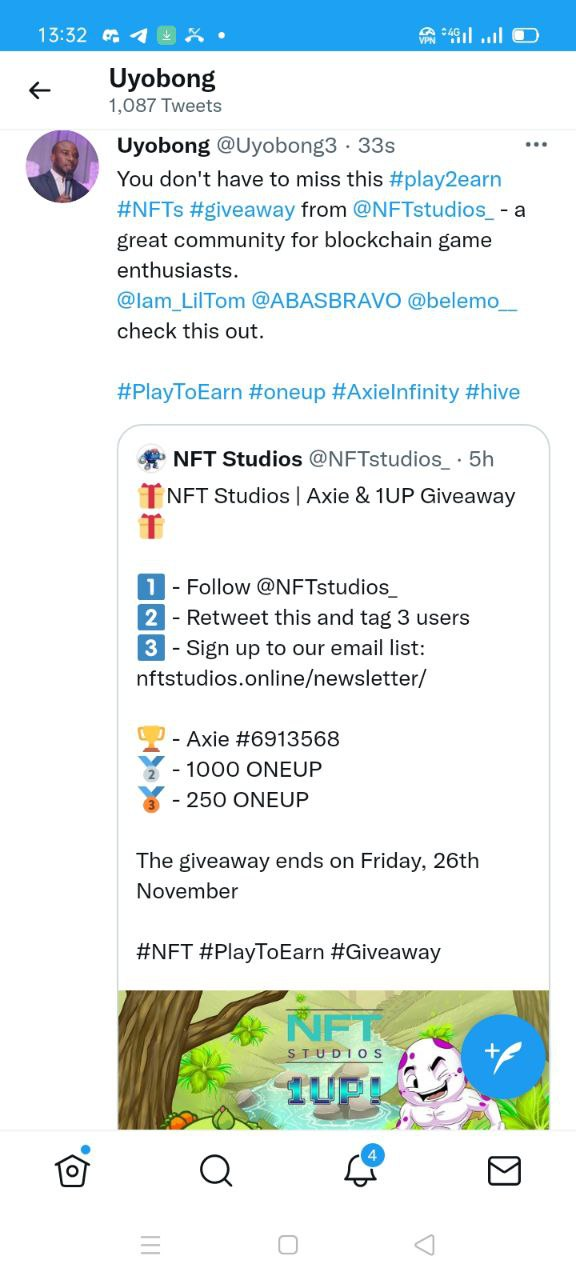 As at today, 100 ONEUP received last week is worth about $8.5 and that was received for doing a few social tasts that lasted not more than 3 minutes. Looking up, we see that the prices for the present tasks include:
First place: Axie #6913568
Secoind place: 1,000 ONEUP ($85)
Third Place: 250 ONEUP $21.5)
That a huge array of cryptocurrency and NFT prices that shouldn't be missed. I'm yet to know the worth of the AXIE prize bbut I'm sure it should surpass $100 since the secondplace prize of 1k ONEUP is worth around $85.
Very interesting is the fact that this second Twitter giveaway campaign would bring some Axie Infinity players to the knowledge of 1UP community, ONEUP tokens and by extension, the Hive blockchain.
What is Hive?
Hive is an innovative and forward-looking decentralized blockchain and ecosystem, designed to scale with widespread adoption of the currency and platforms in mind. By combining the lightning-fast processing times and fee-less transactions, Hive is positioned to become one of the leading Web3 blockchains used by people around the world. source
Contact the 1UP Team
The 1UP team are so open for discussions, ideas and contribution regarding to the growth of the blockchain gaming community on Hive blockchain. Utilize these handles to reach them.
---
---