Earning 149% Yield on 1UP Through Curation!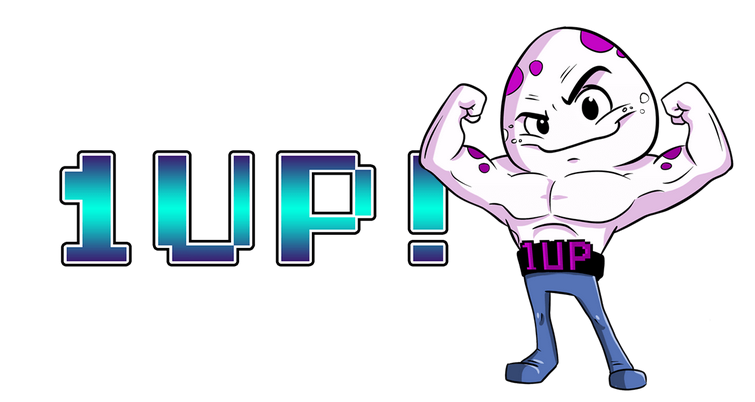 (Cover Image by @flauwy - Thanks!)
Previously I have done two posts on the yield that can be achieved from delegating SPT to @monster-curator, here and here. This time, I thought I would check out what is the yield that I am getting from 1UP through curation (i.e. reading/voting) on posts, especially since I read and vote actively in the Splinterlands community on a daily basis.
By the way, if you haven't already known, 1UP is a gaming focused community on the new frontier of NFTs and crypto in-game currencies. You can read more about them here.
Under the "Wallet" tab on the 1UP site, I realised only the past 5 days of history was available. So I could only tabulate the curation rewards based on the last 5 days.
Based on my 300 ONEUP staked, I have earned between 0.75 to 1.44 ONEUP in the past 5 days, which means the annualised daily yield ranges between 92% to 175%!
Based on a 5-day average, I have earned 6.12 ONEUP (1.22 ONEUP per day on average) and this works out to be a whooping 149% annualised yield!
Have attached my calculations below for reference too!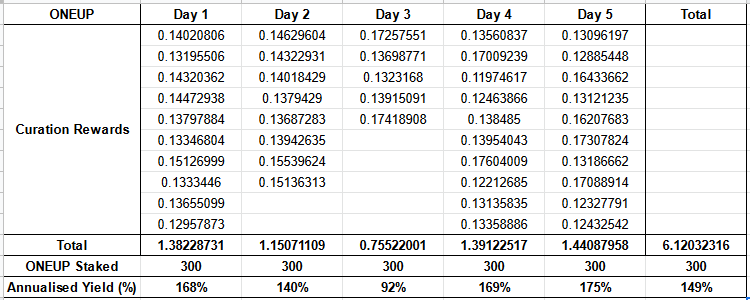 However, do take note that these are not "passive earnings" unlike in the case of delegation as I do take time and effort to read, vote and comment on posts. So the curation rewards could fluctuate from time to time.
On a related note, do let me know in the comments below if there are any recommended curators that I could delegate my ONEUP token to, as I am open to delegation too!
As always, thanks for reading and hope you have a pleasant day ahead! :)
---
---