Splinterlands - Double or Triple Life Leech

For past couple of daily focus quests I had to go with Death splinter. What I found with death that lacks in heal ability versus other splinters. So I had to come up with a way to keep my monsters alive without heal or tank heal. One was to use neutral monsters but I did not have any with tank heal.
Then there were death monsters with Life Leech ability.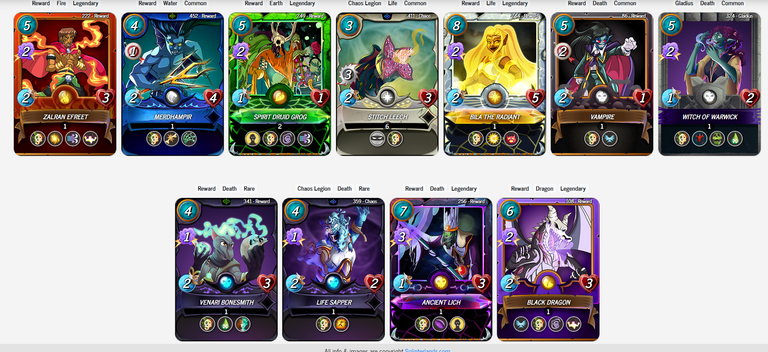 I remember investing heavily on Stitch Leech as I found it useful in extending life of the monster. Now with death splinter we have several options for Life Leech. I found a dual combo of Venari Bonesmith and Life Sapper to be good as it has magic attack hence in middle or rare of the formation they will gain health on every attack. Not there is also legendary Ancient Lich that also has magic making it basically up to three death monsters with magic and life leech. If I really had to stretch it there is also Vampire and Dark Dragon.
Conclusions
Having one of a ability is good but multiple makes it that much more challenging to deal with. In rule sets such as equalizer it makes Life Leech that much more difficult to defend. Death has always been an interesting splinter with different abilities compared to other splinters. Yet there seems to always be a way to compensate for the differences.
Life Leech is not full proof as strong attack can basically knock out the monsters. Still it has its uses when it comes to healing and I like using it when I do not have a death monster with heal.
Until next time thanks for reading!!!
https://images.ecency.com/p/HNWT6DgoBc1692QWn5trsLBYecSp3jKD1kzdmSDR4FGzPSXomkgLtisN5TzrwHTsD1D4ocqDPHpFztKzeH4ibh1vQVU3d3dSaB6VYJ1U3RdsSDi5spmdafX25ph.webp?format=webp&mode=fit
If you want to play splinterlands then SignUp Here
I have plenty of other cards for rent! Just go on peakmonsters and check out the market place and if you are curious what I offer here is a link:
If You have yet to take part in playing this great game called Splinterlands please click on my referral link. It is free but in order to earn real assets such as cards and token you would have to invest in a starter deck or purchase game cards. Join the discord to learn more. Good luck!

THANKS FOR READING! CONTINUE TO PLAY SPLINTERLANDS!

---
---