Weekly Battle Challenge - Two Shamans For The Price Of One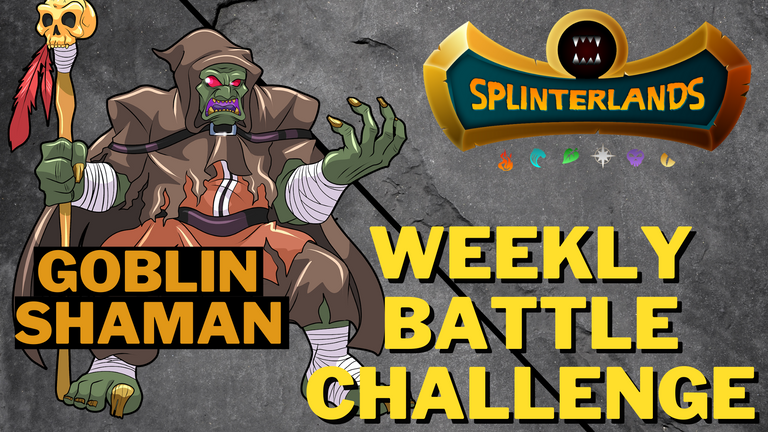 Weekly Battle Challenge - Two Shamans For The Price Of One
Hey Splinterlanders,
Tonight, we see the battle of two Goblin Shamans, who are leading their teams into battle... from the middle of the deck. They are quite chickenhearted. Legend has it, that the Furious Chicken is a former Shaman, who got banned from the Shaman community and was turned into a chicken as punishment.
But enough with the urban legends. We want to see blood. So, without further ado, I give you blood and lots of it.
But first, let me introduce this fine greenskinned fella with his overgrown toenails.
He is a Beta card for most of us (yeah, yeah, we don't want to hear from your full deck of Alpha cards, veterans 🐵)
and could be in high demand in the near future. This battle challenge is a great reminder of that and I have to thank @splinterlands for running this challenge, so I could scoop up a Shaman for myself. Up to this point, I relied on the starter cards as a whole, but now, I started to accumulate beta cards, for when the game implements modern format, the starter cards change from beta to untamed, if I remember correctly. Big changes ahead nevertheless.
So, this Shaman you see in the match is actually mine, and I try to level him up to level 5, for at that level he gains the ability "slow".
Level 3 is a crucial threshold as well. The shaman turns into an actual magical monster, not a pretend one. He receives an magic attack point.
But at Level 1, he has the ability "weakened", and steals one health from all enemy monsters. A pretty powerful common card, as I see it.
In this card overview, you can see his stats level by level.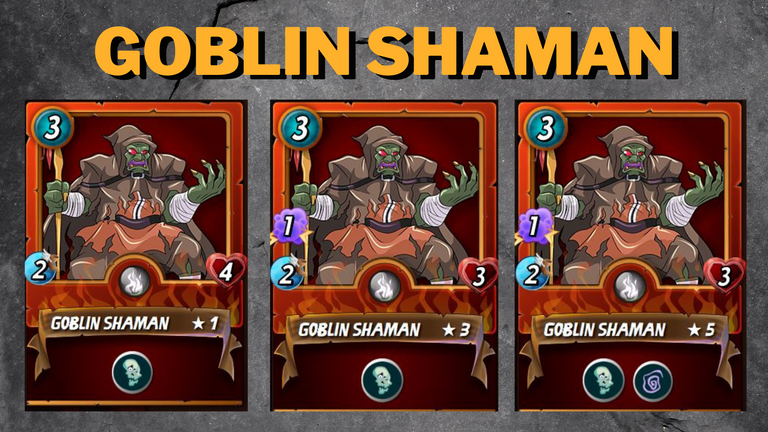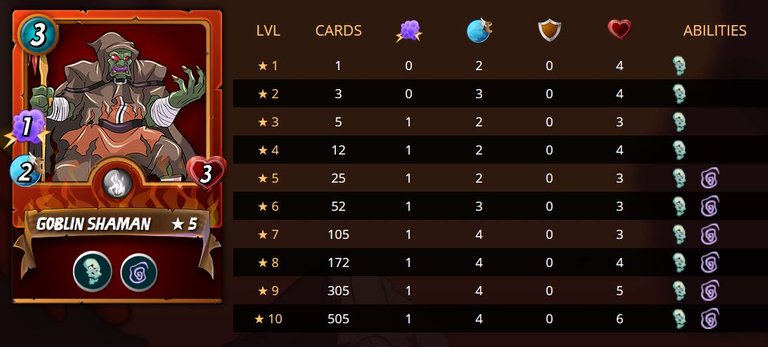 He is a fire monster, so I had to choose the fire splinter or wait, until a decent enough opportunity presented itself to play with dragons again, but I chose fire. My deck is decent enough for Bronze I, but in Silver III I get my ass kicked by players, who oftentimes have 10x my deck power, but, oh well.
The Shaman has three mana points, so he can fit in any team, if it's feasible. At level 1, he has two speed and 4 life points, which is why most players put him as second tank, especially in low mana matches.
My opponent chose to do so, I unfortunately did not. I don't know, if this move made a difference in my demise (SPOILER ALERT!!!), but it was a noticeable difference.
But let's look at the match. If you're interested in learning via Video, you can watch the Battle here.
Here is the result of that try. Video-Link
---
Game Settings
Rule-Set was Standard
Mana cap was at 22, so mid-ranged for Bronze I (it could be, that I already climbed up to Silver III at that moment)
The active Splinter were Fire, Life and Death. So, no dragons 😢
He chose Fire as well, which was odd, because in his battle history, he hadn't chosen a fire splinter
I didn't have to accomodate for a rule-set, so I chose monsters with sneak attack, to catch him off guard and decimate his backline, before he could kill my tank. For that, I tried to speed myself through the match by adding Creeping Ooze (slow my opponent down).
With a level 5 Shaman, I could have beaten him, I guess, with another slow or with another card other than Creeping Ooze. That was one the lessons in that match-up.
---
Battle Line-Up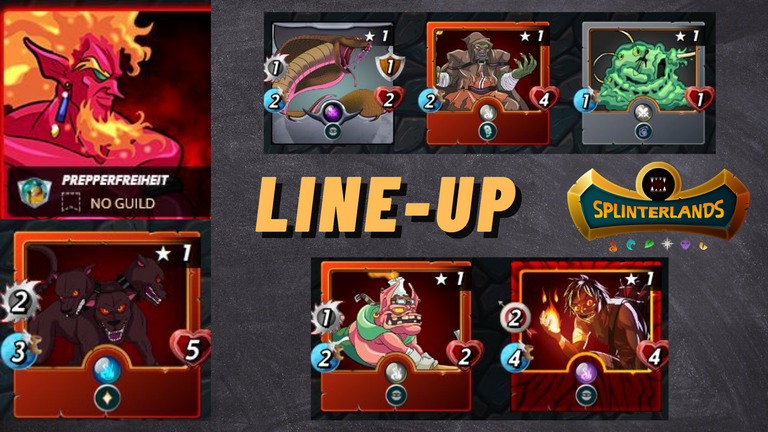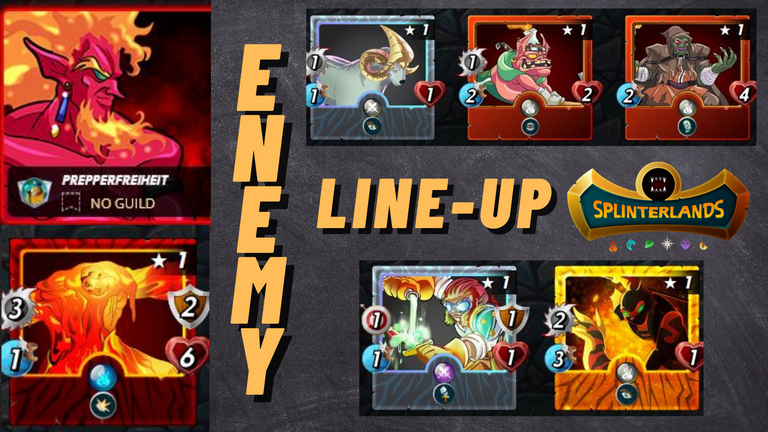 ---
First Round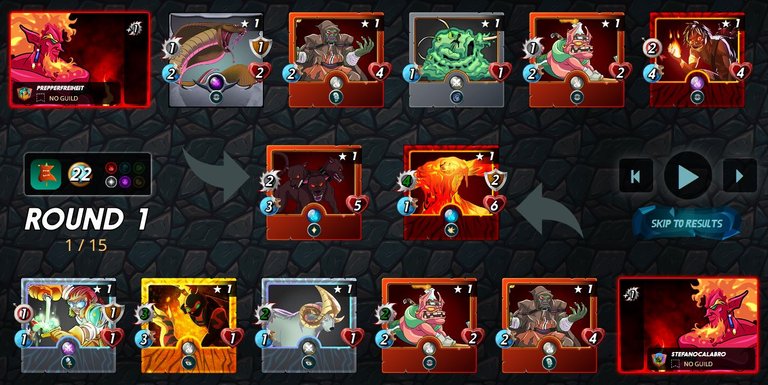 I was off to a pretty good start, kill his ranged card at the beginning with to of my three sneack monsters, but then, something, I didn't foresee happened. My third sneak monster Uraeus was called for duty as a tank, when Cerberus was killed. Had I placed the Shaman as second Tank, I would have had my third sneak attack and had killed his Battering Ram. That was definitely a placing mistake.
Second Round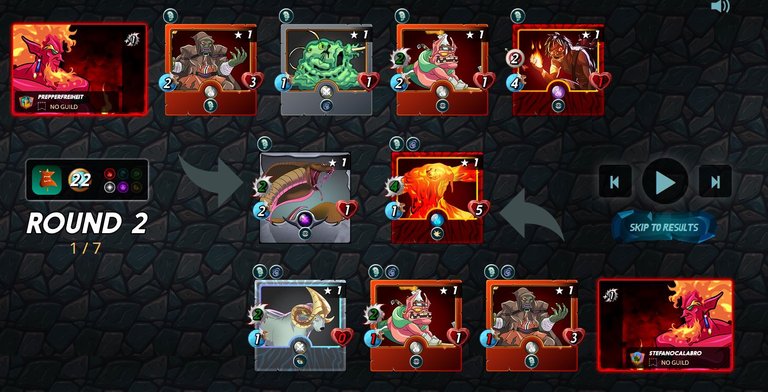 I killed his Kobold Miner, but that was about it. The Goblin Shaman had enough life to stay on the battlefield
Third Round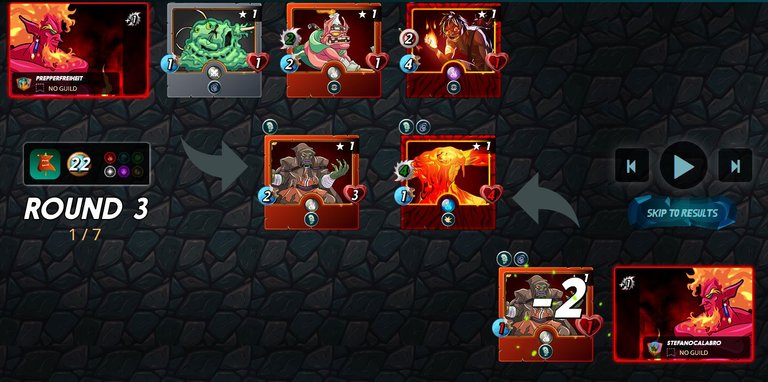 In round 3, my Kobold Miner finally killed his Goblin Shaman, an my initial health points were restored. It looked pretty good for me, even after his Tank killed off my Goblin Shaman and added one point to his health pool.
Fourth Round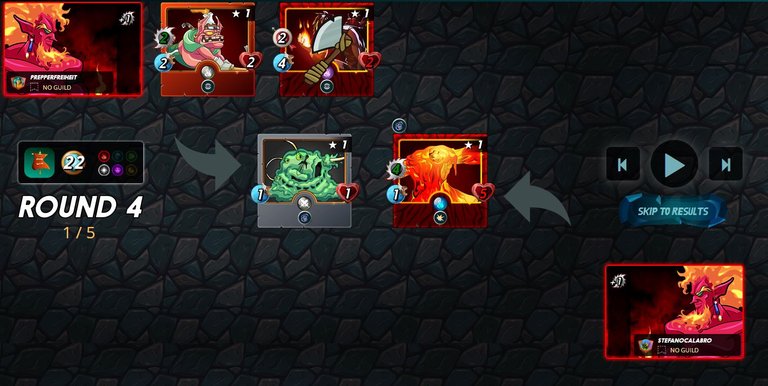 I still had my two sneak monsters in the back and an Ooze in the middle. It should have been enough in my book, but Living Lava with Shield only is a good choice against melee and ranged attacks. I only could subtract one health at a time from him, and then, he killed of my last melee monster.
Fifth Round and Conclusion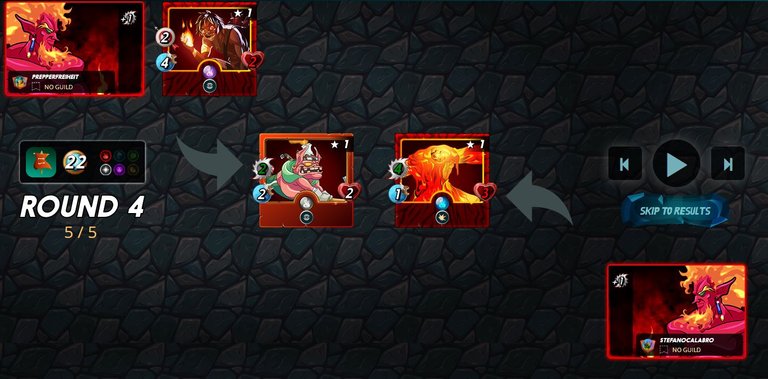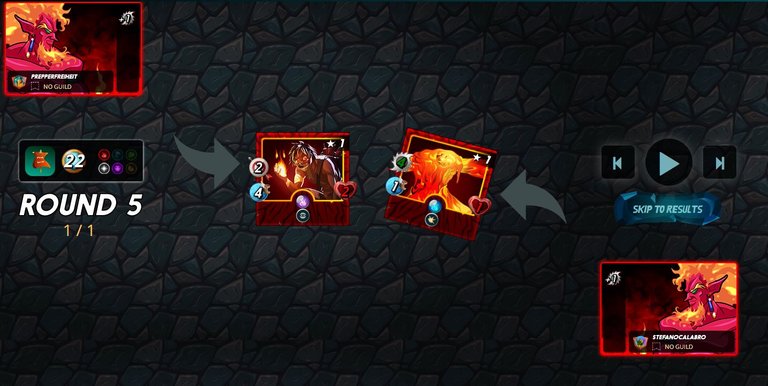 Pyromaniac as a tank is not good, you can imagine. Living Lava killed him with one blow and he didn't even defend himself.
With a level 3 Goblin Shaman, I could've killed off Living Lava quite early on, or at least given him a hard enough time, that he would die before killing my Pyromaniac. Trying to burn a lava-like creature is a pretty dumb idea, my dear Pyromaniac. Lesson learned.
Battle Results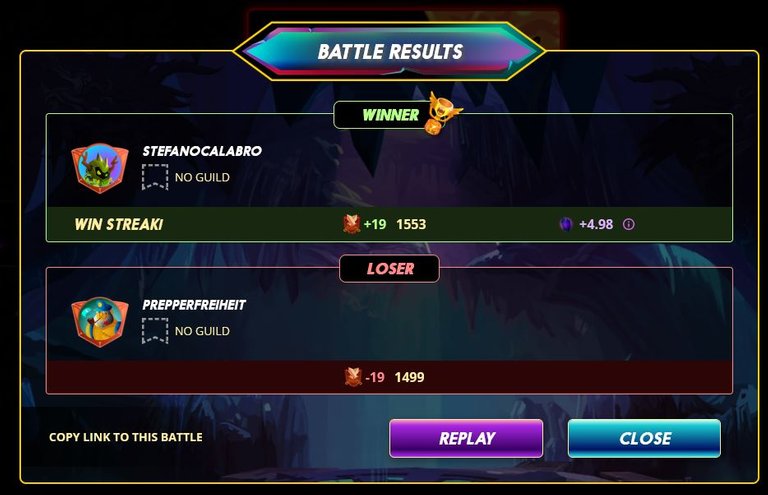 Congrats to Stefanocalabro for beating a fellow Goblin Shaman.

Thank you for reading my entry for the Weekly Battle Challenge of Splinterlands.
---
This Article was published as part of a Challenge and as a Social Media Promotion on the Hive Blockchain as well as on the Social Media platforms Twitter, Reddit and Instagram. If you've found your way here through Twitter, Reddit or Instagram, feel free to use my referral-link, to register on Splinterlands and play the best and most innovative Blockchain-Game around. You can browse the Hive-Blockchain as well as the Splinterlands-themed frontend "Splintertalk.io" to widen your knowledge and become a better player.
Splinterlands hosts multiple contests each week, with which you can earn Hive and SPT, two crypto-tokens which are very valuable on the blockchain and in-game.
If you need help with anything regarding the game, join the official discord server here: https://discord.gg/Zq9qqUCX and/or read the faq page on Splinterlands.com.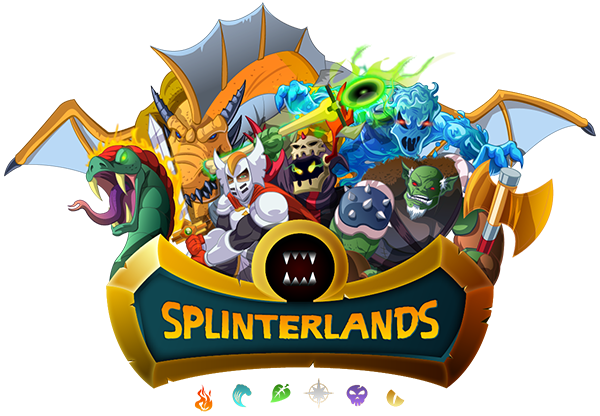 ---
---