Renting out my deck during busy time in life
Splinterlands has been a boon for all of us players, I am happy to get involved in the UNTAMED kickstarter, before that I had not really played at all. Since I started, the value of my account has ballooned upward, despite my best efforts to continually 'rebalance' by selling things off for HIVE.
Once again the price of my card collection has risen to what seems like an unacceptable level, around 47k govbucks.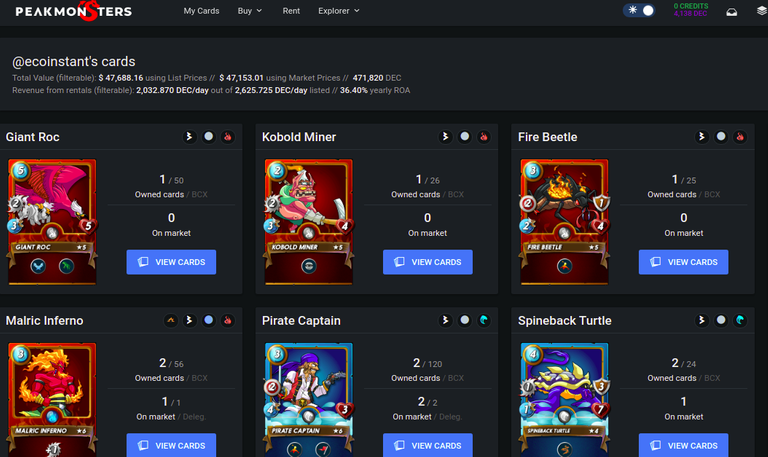 Combined with my 2 PLOTS and some 2k staked SPS, I am crowning 50 thousand smackers and its time to take a break from the game.
I have played when I could over the last 2 months, I enjoyed it but its just not fitting into my life anymore for the time being. Luckily, I don't necessarily have to sell my NFT cards, I can also rent them out.
I will be using the peakmonsters.com interface for all of this work, because of their easy 'Price Discovery Tools'.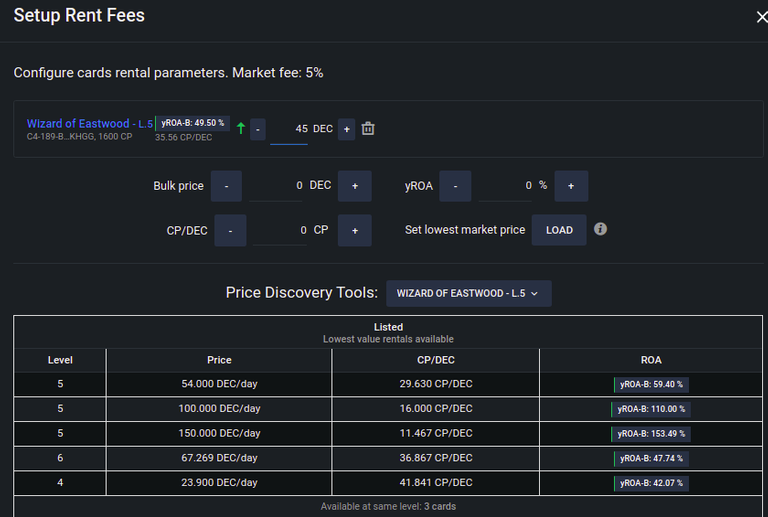 I start with the summoners, and peakd should give you a pretty good preview of what you are looking at. If you list competetive prices in this part of the season, it is likely that you will get everything rented out by the end of the season, when rates go through the roof.
I prefer to be competitive on all days and earn throughout the seasons so I kind of like listing to rent during the early part of the season after a few days has passed.
I still have one quest left to play, so I will leave my fire splinter for last - hopefully I can get up to gold 3 and just coast from there for a few seasons.

When I go through and rent out my leveled cards, as well as golds, betas, rares or better and promos, I work splinter by splinter. I am happy to see that rental rates are generally above 30% apr. This means if I can squeeze my cards good, I should be able to get somewhere around $15k govbucks per year of DEC out of these nfts. That's a lot of tokens!
I am going through Splinter by Splinter with the PeakMonster filters, listing cards to rent. About half my cards were already rented out, but after Water and Life Splinter, these are my stats, filtered by cards on the rental market:

So far I actually am making a good return, 22 dollars per day in DEC out of a possible 32 dollars listed. Its a lot of work to list all of these cards, but its a pretty nice little income for someone looking to take a few well earned months off from the game.
I put in a bit more time to list up my Green Splinter, and now look at these stats:

Its arduous work, but number go up!
These DEC will drip into my account, increasing my SPS airdrop. Currently I am getting about 65 SPS per day, which is worth on the market about 28 dollars per day.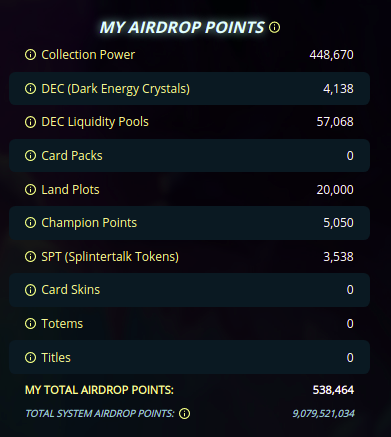 If you think the DEC/SPS price is going to go up, its a good idea to match them in the pool and get double airdrop points. If you think it will go down, its best to just dump them.
For now, I am locking some in the liquidity pool as well as farming some liquidity from these tokens in HIVE terms, to hedge against any more HIVE gains against these game tokens.
I use beeswap.dcity.io/swap for all of my hive-engine liquidity pool needs.

The DEC stored in this liquidity pool counts for double in the SPS aidrop (still 248 days to go), so its a pretty good deal for two tokens that are intimately related.
This is my plan for Splinterlands while we are busy working on other exciting projects. How many projects is it so easy to squeeze value out of your tokens so passively while you are occupied on other tasks?
Freedom and Friendship
---
---