Splinterlands Needs Skill Modes! (Suggestions)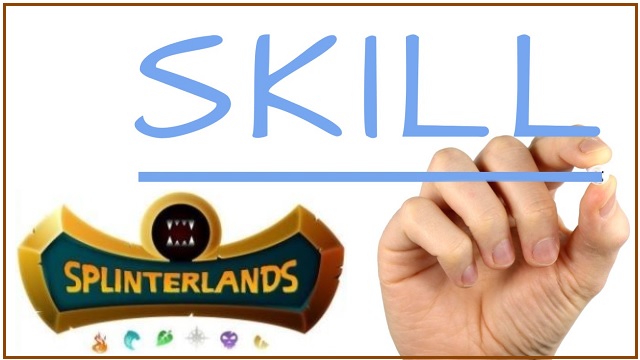 One of the issues I have always had with Splinterlands is that the Play2Earn Economy has gotten prioritized over Fun & Gameplay which makes the card game into an extreme Pay2Win experience. I'm still hoping a skill mode will be added one day and wrote down some suggestions on how to possibly make this happen...
There is a lot of skill involved in Splinterlands when it comes down to optimizing earnings and I have highly been enjoying that aspect of the game for sure! I would however go as far as saying that Splinterlands is in essence a money management game with the actual card game being an obligatory daily grind most players honestly don't want to do. It is fun at the start to learn everything and collect cards, but after a while, you kind of go through the motion and I'm quite sure at least 98%+ of the player base would leave if there were no more rewards.
This goes for the Ranked Battles where 8 out of 10 games are won or lost a match just based on cards that are owned never really giving players the feeling they outplayed the opponent or were crushed by them. Tournaments are ridiculous as all players pay an equal entry fee to compete with those that have a more complete collection getting a clear pay2win advantage. In the Brawls, the guilds that burned more DEC to upgrade buildings get a direct advantage in that they can play Gladius Cards and even have a higher mana cap in games giving them a direct pay2win advantage. All these things, at least for me, suck all the fun and challenge out of the game making it into just an obligatory grind. The Land Exapansion with the spells and items with have exactly the same pay2win aspects likely making things even more extreme.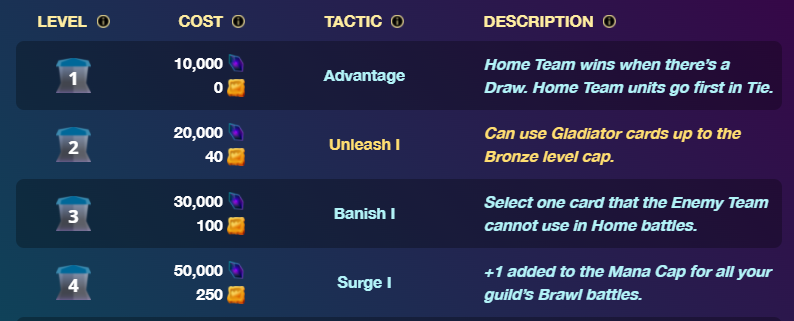 Sure there is still skill involved and some players are way better than others, but you never really know where you stand in any given match and the game doesn't ever give you a feeling of having played good or bad.
---
Splinterlands Skill Modes
It would be really nice for the team to at some point actually introduce a mode in the game where the only 2 factors are Skill & Luck putting everyone that plays on a level playing field where the players that are most skilled stand out and where all the focus can be put on actually making it fun.
What would be needed for this is that everyone gets access to the same cards while there are still rewards to be earned and incentives for players to actually own the cards. I think this can be done with a system of rental pools.
Rental Pools
Instead of direct rentals from 1 player to another (which is the system now), there also could be a general pool that players who own cards could lock them into. Everyone that pays a fixed rental fee can make use of all these cards in the skill mode putting everyone on a level playing field. The rental costs goes to those who lock their cards into the pool based on a combination of the DEC burn values and how often the cards are actually being used.
What this does is:
Make Incoming Rentals Easy
Make Outgoing Rentals Easy
Puts Everyone on Level Playing Field (allowing a Skill mode)
More Potential for Fun & Challenging Gameplay
---
Example Skill Mode 1
Right now, there are plans to split ranked modes into Wild (All Cards Allowed) and Modern (Only Never Cards Allowed) which to me feels like boring game design. I would say keep the Modern Format (as the main pay2win part of the game) but change Wild into a Pure Skill-Based Ranked mode.
Let's say each Season has a specific set of cards that are either randomly or manually selected upfront. This especially will be possible as more cards get printed over time, right now this can be 3 Summoners & 17 Monsters for Each class and some neutral cards as well. These cards can also be higher-level, only golden, or Gladius cards, and they change each season which keeps things fresh.
Players that want to earn a passive income can delegate/lock any card in the Rental Pool. 50% of rentals are paid based on DEC Burn value regardless if the cards is in the season line-up / 50% are for cards that are in the season line-up based on how often cards are used. So the more useful/expensive/rare cards will earn more rental income.
Everyone that wants to take part in the season has to pay an entry fee that goes inside a pool and gets paid to those that delegate/lock their cards into the rental pool. Players that actually own the cards that are in the line-up of that season can enter at a reduced cost based on DEC Burn values. So if the total DEC value of all individual cards that can be played in a season is 100k DEC and a player owns cards from the season worth 50k DEC they get a 50% Discount.
Rewards that are normally paid out by the game for Ranked Season instead go to this format based on final ranking. Everyone starts off with exactly the same cards that they have available for the entire season allowing them to play to the best of their ability on a level playing field. Every game that you win, you will get a sense of accomplishment beating the opponent and when you lose you will learn and get better. The most skilled players who determine the meta will most likely end up on top and possibly can battle it out in an end-of-season finale that might be interesting to broadcast watch.
There even can be a part where everyone submits their best possible deck at the start based on normal game rules which battle it out automatically each day to create an ultimate winner there on that season.
---
Example Skill Mode 2
With a similar system of the Rental Pools, a mode like Arena in Hearthstone could be created allowing players to pick their cards based on 3 options they are getting each time (using the entire rental pool), possibly going up cards level when progressing. Luck will be a much bigger factor in this mode but never in an unfair way and when playing enough times, the better players should rise to the top.
---
Conclusion
At some point, it would really be nice for Splinterlands to have a mode that is fully based on Skill as this will attract new kinds of (real) Gamers who aren't looking for another casual pay2win gaming experience. Based on how the economy has gotten priority in every single gameplay aspect of the game, I can't say I'm too optimistic for this to happen unless there comes a time with declining prices and overall interest in the game.
---
Play2Earn Games I'm currently Playing...
---
---