How much 1UP / SPT / Hive Power are needed for a $1 Vote Power?
What's up Hive community and hope you're having a wonderful Sunday! I've been running some simulations about the voting power and value and I want to share it with you all.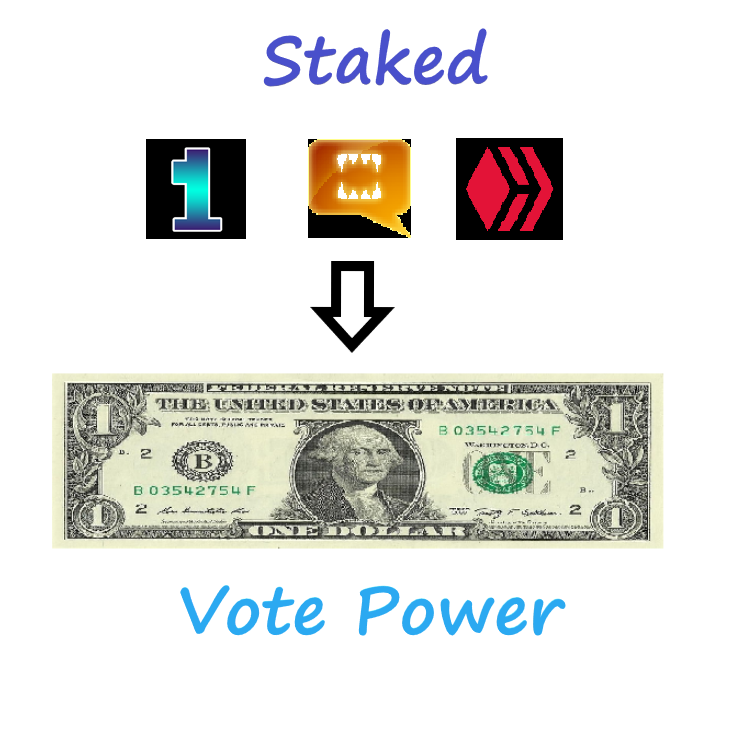 Image source: Logo form hive-engine and $1 bill from
Wikipedia
I was inspired by:
ONEUP
I've been pretty bullish on 1UP since day 1 and it provides the perfect incentives for blogging about gaming in addition to engaging!
The focus today is on How many staked ONEUP are needed to have a voting power of $1!
PS: The price is always subject to changes and depending on the Hive price.
P.PS: Voting rewards are split 50/50 between the Author and the Curator!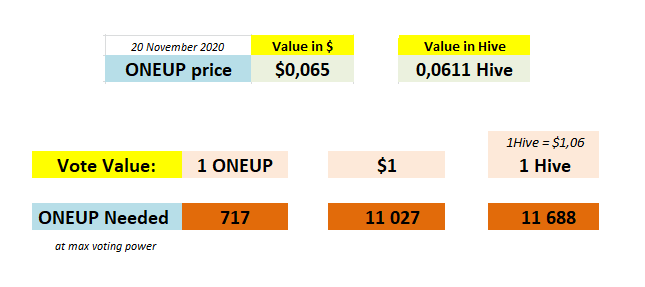 As you can see, around 720 ONEUP are needed to have a voting power of 1 ONEUP equivalent to $0.065 at current price.
While you need around 11k ONEUP to have a voting power of $1 and around 11,5k ONEUP for 1 Hive.
Being upvoted by a 1UP Curator (15K ONEUP delegated) earns you more than a $1 so it's really important to provide decent contents in order to get upvoted!
The biggest upvotes I've had so far are from Flauwy and Kevfibot account at around 170 Vote power (both have around 150k Hive staked)


SPT
These are SPT calculations: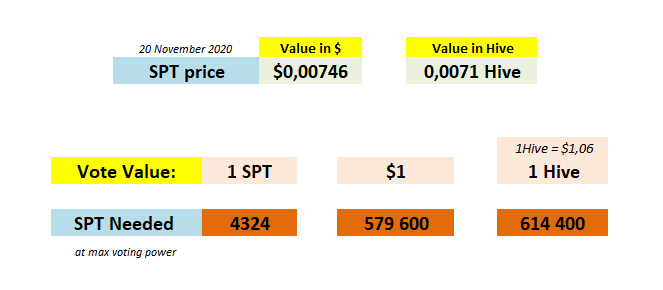 You may notice the difference between SPT and 1UP, you need
4300 SPT
for a voting power of
1 SPT
While you need a whopping 580k SPT for a voting power of $1 and 600k SPT for 1 Hive
You might think that such numbers cannot be achieved but wait:
@monster-curator is sitting at 27 Million SPT (99% are delegated to that account), upvote value at 20% is around 1300 SPT (my latest upvote I got from it) or 6500 SPT if used at 100% power. (Exceptional awesome contents got 100% from monster curation! congrats and keep doing your best!)


Hive Power
Hive token, the father of this whole amazing ecosystem, everyone is seeking to accumulate the most Hive Power. You'll find amazing and motivational posts under the hashtag #myhivegoals:
These posts never fails to make me amazed and looking up to their dedication to reach their goals:
Here's the Maths:


You need 19k HP in order to have a voting power of 1$, a bit less for 1 Hive voting power
looking at my 54 HP
looking back at these numbers
Sigh, a long way to go...
I wish everyone the best of luck to reach their end of the year goals and know that aiming for thousands of HP as a goal is never a simple task!
My thoughts
Don't let those numbers discourage you, while it's the fatest way to reach $1 vote value throught 1UP, we should be aiming for the long term while putting the effort in achieving what we want!
As for now I've got my SPT ready to put in the diesel pool while I want to split my 1UP 50/50 between staking and diesel pool while accumulating as much HP as possible.
Tip: Weekly splinterlands challenges rewards with a juicy amount of Hive upvotes so be sure to at least take part of it by, for exemple, sharing an interesting battle you had!
---
---