Got liquid 1UP? Pair them with Hive/SPT in Diesel Pool for Extra Rewards!
Been spending quite some time on 1UP and really enjoying the interaction and responding to the comments on my posts and others posts too (need to be more active there)
It came to my attention that a lot of members were asking about how to use Diesel Pools.
And shoutout to @davdiprossimo that gave me the idea (check out his Post) to do a step by step tutorial and hope it'll be helpful.
PS: I'll be using Beeswap as it feel smoother than tribaldex and shows the APR of each liquidity Pair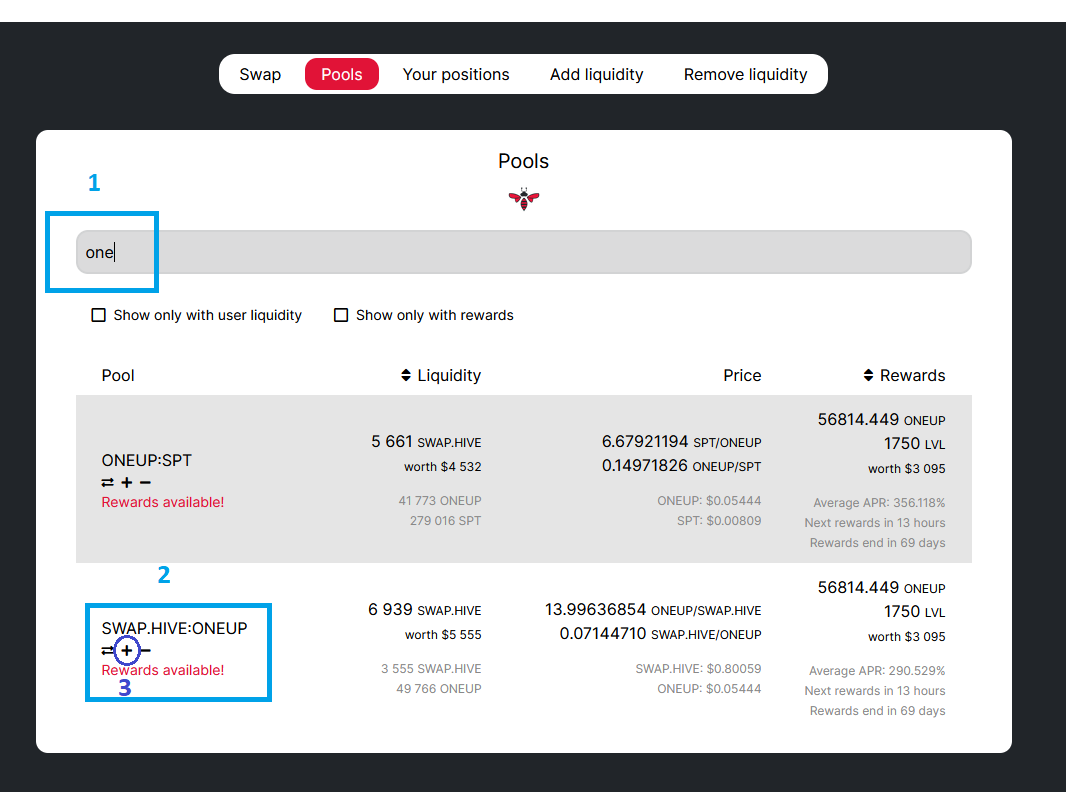 (1) I've included in the provided address the filter for 1UP only pair or you can search manually for it
There are 2 liquidity pools for 1UP: ONEUP:SPT and SWAP.HIVE:ONEUP
(2) I've chosen the SWAP.HIVE:ONEUP pair as it's less prone to price fluctuations, lower risk of impermanent loss and a juicy APR at 290%
The steps described below can be done with the ONEUP:SPT pair, you'll use SPT instead of SWAP.HIVE
(3) Press (+) to proceed to adding liquidity
Adding liquidity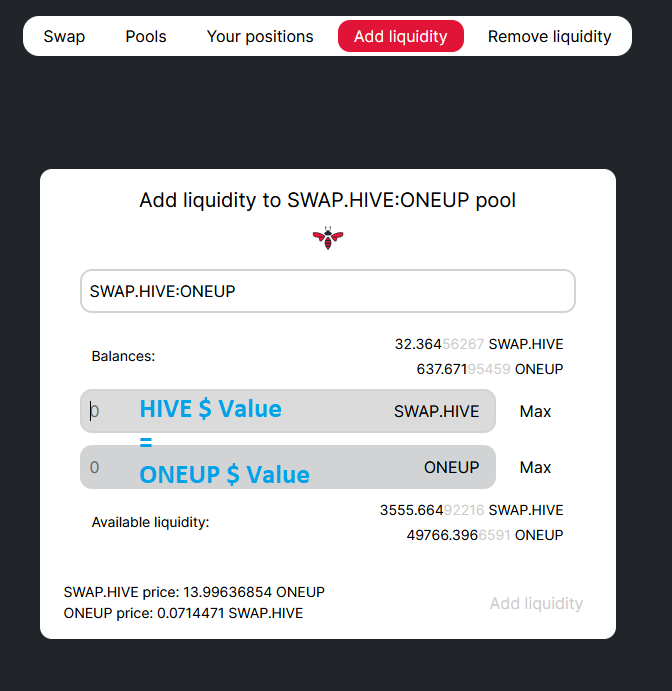 Before providing liquidity, make sure you have matching $ value of 1UP and SWAP.HIVE

If you only have 1UP, Go to "Swap" tab and swap half your 1UP holding to SWAP.HIVE.






(1) Provide your desired 1UP tokens to add to the pool, the system will automatically match the needed SWAP.HIVE

(1') MAX if you want to provide ALL your available 1UP tokens

(2) Press "Add liquidity" and confirm it via Hive keychain Wallet.
Checking Your position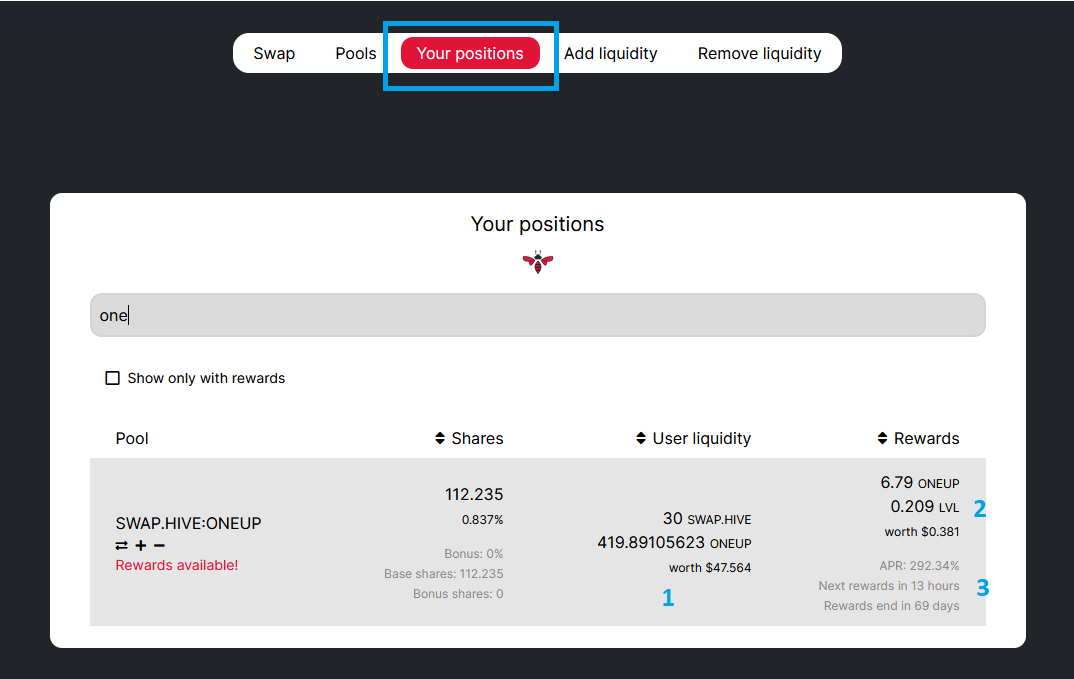 After confirming, go to "Your Postion" tab and you'll find informations about your provided liquidity
(1) the amount of provided tokens in the pool and current $ value
(2) Expected rewards (you receive rewards every 24 hours)
(3) APR and reward timer: these details are only provided by beeswap
Rewards APR may fluctuate based on the tokens value or total liquidity (more people joining => less APR)
Removing Liquidity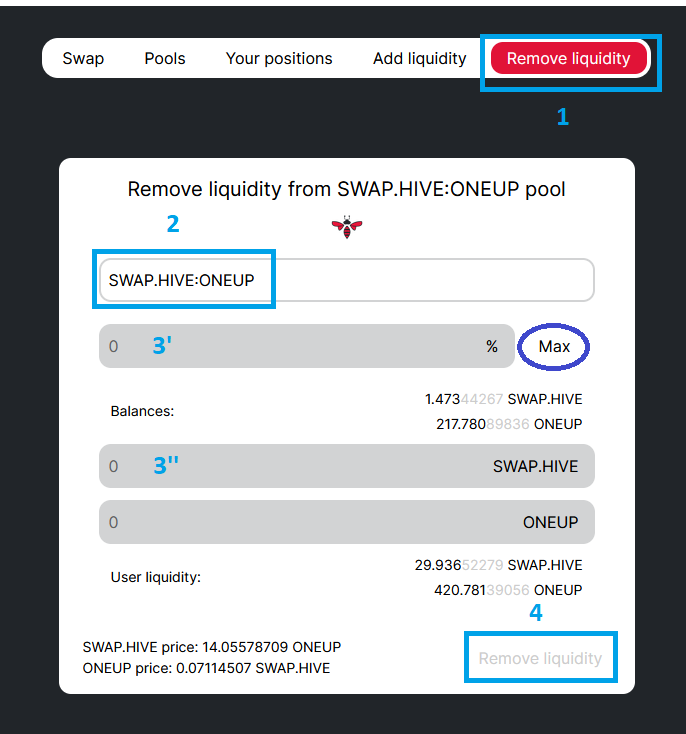 (1) Got to "Remove liquidity" Tab
(2) Choose the pool you want to remove liquidity from
You can either remove:

All liquidity by pressing "MAX"
A percentage of your position (3')
A specific amount of either tokens (3'')

(4) Press "Remove liquidity" and Confirm: your tokens will be available in your wallet
I hope I could clear step by step how providing liquidity is done! If any question, ask in the comments and I'll do my best to help.
PS: This is NOT financial advise, it's only a tutorial and I'm not responsible for any loss so DYOR please.
---
---