Flipping Summoners, investing savings and farming Cub with HBD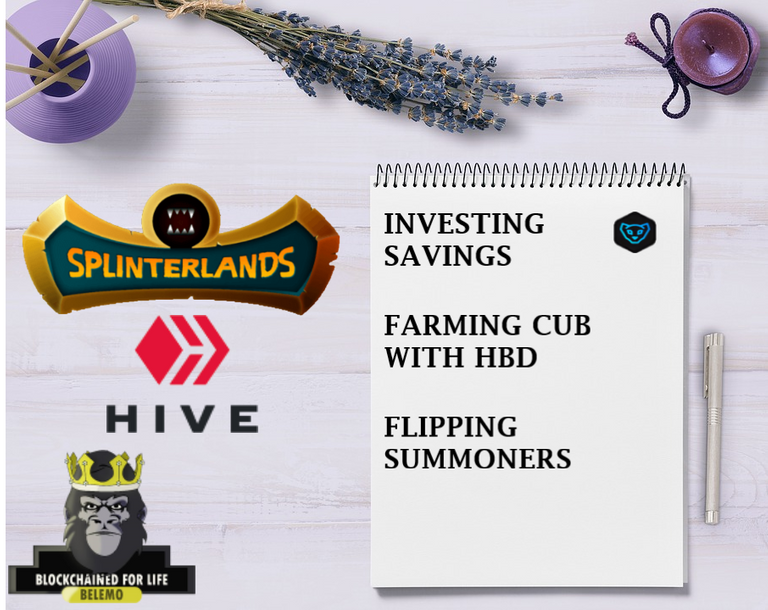 If you're a Splinterlands investor then you definitely flip cards in some way. Flipping NFT monsters in the game is one of the fastest ways to make a profit from the game but to achieve it, you have to take chances.
Flipping monsters hasn't really been my mainstay over the years but I've dabbled on numerous occasions and I've largely been successful.
To ensure I stay on track, I regularly check the market activities of most monsters in my deck and constantly find ways to squeeze out profit from trading them.
Squeezing out profit requires an in-depth look at your wants and needs though. For example, if you're battling in lower leagues, and poor like me, then you might not actually need the fancier cards. So you have to always be willing to make compromises if you want to efficiently flip and battle at the same time.
Concessions
In my bid to get ahead through accumulating DEC and invariably more SPS tokens, I've had to make some compromises. These concessions generally focus on my needs, rather than my wants.
I also had to consider statistics and try to balance it out with my reality.
For example, I always had a minimum of Level 5 rare summoners for every splinter but thanks to my SPS target, I've had to sell virtually everything in the water splinter. This means that I don't do water daily quests.
After I got robbed, I also had to list my Qid Yuff fire summoner for about $900 but that move doesn't mean I'm quitting on fire. I'm actually trying to lighten my load by selling off a summoner that I don't need to buy one that I need.
The summoner I listed is a level 8 maxed out Qid Yuff and the summoner I need is a level 5 Pyre.
Going back to the topic of flipping monsters, I'd like to add that I was actually able to max out my Qid Yuff by selling my level 5 Pyre for $250 or about that range. Right now, the level 5 Pyre is about $520 while maxed out Qid Yuff goes for about $900 This means that if I manage to sell my Qid Yuff at $900, I'll be at least $380 in profit after buying back Pyre, if you don't include service charges.
Holding on to Pyre would have been a better decision in terms of direct value of the monster but when you consider the fact that selling it gave me a lot more DEC at the time than it would get me now, thus adding to my SPS airdrop, then I think it was a pretty good trade.
Investing profit
Still, on the topic of profit, I've decided that I'll be reinvesting all the cub I earn from mining back into the Cub/BUSD pool. However, I think that approach might be too slow and I'd also not want to miss out on the PolyCub move.
So to hasten the process, I've decided to pull $1200 from my HBD savings and put it to work in Cubfinance. As my hack has proven, BSC is a lot riskier but the higher APRs are more rewarding than the 10% APR for HBD savings.
How to move HBD to BSC and farm Cub
My biggest issue was figuring out a way to move HBD to Cubfinance. I considered using that tool that converts Hive to Binance Coin but I feel better just going through an exchange since I don't have to contend with tax issues.
Anyway, the point is that there are a number of ways that one could get involved in Cub farming through their HBD earnings on Hive. So far so good, I know three ways. Out of the three ways, you need two important things and that's a BSC wallet address and some BNB inside your wallet.
Through Bleo
Here's how to add Bleo trading contract to the Pancakeswap exchange portal that Cub finance links you to.
On Pancakeswap, click manage tokens and add bLEO as a custom token using the following contract address:
0x6421531AF54C7B14Ea805719035EBf1e3661c44A
Then it will work just like it used to when it was Cub skinned....Courtesy of @forexbrokr
After that, you can now proceed to adding Bleo through the following process;
Sell HBD for Hive in the internal market or convert it(takes 3.5days)
Move Hive to Hive DEX through leodex or Hive-engine
Buy Leo on Hive Dex
Wrap Leo in BSC through wleo.io/bsc
Exchange LEO for CUB and then some BUSD, then pool
This is a new one I just found out some days ago and it's an easy option to perform the entire transaction onchain.
To do this, you simply
Sell HBD for Hive
Send Hive to @bscbridge with your BSC address as a memo
Sell BNB for some Cub and then either pool against BNB or just sell more BNB for BUSD and pool in the Cub/BUSD pool.
Note:
I've not used this approach before but based on wallet activities, I think it's legit.
This approach is also useful for anyone with a BSC address with zero BNB and would love to dive straight into liquidity pools.
Warning: BE VERY CAREFUL WHEN MAKING THIS TRANSACTION. MAKE SURE YOU SPELL THE USERNAME CORRECTLY.
Through Central exchange
Finally, if you're like me that doesn't have to account for your crypto transactions because your government doesn't acknowledge it, then you could also just go through crypto exchanges.
This process also requires that you have some BNB in your wallet address, so keep that in mind.
Sell HBD for Hive and send Hive to exchange (you can also send HBD directly if you use Bitrexx and anywhere HBD is listed)
Sell Hive for BUSD(you can also buy BNB if you want to use the Cub/BNB pool)
Send BUSD(or BNB) to your BSC address
Use half of the BUSD (or BNB) to buy cub
Pool assets and start farming cub.
Summary
These are the three ways I know you can delve into cub farming and by extension, you can also start throwing assets into the DEC/BUSD pool to increase your SPS airdrop.
So if you post regularly and are looking for ways to invest your post earnings, this is an option for you.
Disclaimer
This is not financial advice, so while I put effort into my content, I highly recommend that you do your own personal research.
Contact & Support

Posted Using LeoFinance Beta
---
---